Andy Johnson scored after just 78 seconds on Sunday, as Fulham met their West London rivals QPR at home in Craven Cottage.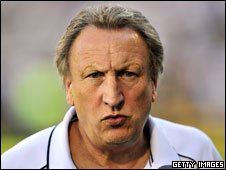 Not only was the goal the fastest in the Premier League so far this season, it was the first time that Fulham managed to take the lead in a game. The side went into the match with a tally(比赛中的)得分 of four draws and two losses.
Johnson's two-minute strike may have been the moment that the Cottagers turned a page 扭转形势。 They went on to destroy a lacklustre 呆滞的 QPR side 6-0, with a further two goals coming from Johnson.
Murphy, Dempsey and Zamora claimed the other Fulham goals.
After the game, Johnson praised his team-mates and admitted that after scoring two goals he had been itching for 巴不得,梦想着的 a third:
We were really at sixes and sevens at the back and it showed.
QPR manager Neil Warnock
"Always in the back of your mind, as a striker you want to hit that benchmark 标准 of a hat-trick 帽子戏法。 It's my first hat-trick in the Premier League, so it's a proud moment for me and my family."
QPR's boss Neil Warnock blamed the defeat on a defence that had been weakened through injury. He used the phrase 'at sixes and sevens' to refer to QPR's disorganised back line 后卫线, which allowed Fulham to "slice through them" easily:
"We lost Connolly yesterday, Fitz Hall has an injury today, we've got Gabbidon still not 100% right, so we were really at sixes and sevens at the back and it showed, really. They sliced through us like a knife through butter, didn't they?"
Neil Warnock used another common English phrase to indicate his intention to acknowledge 承认 the defeat and then forget about it and try to perform well again:
"We'll take it on the chin and move on – there's a lot worse in life, isn't there?"
We'll take it on the chin and move on.
Neil Warnock
Warnock also appeared unconcerned about the behaviour during the match of the Morocco international and former QPR skipper Adel Taarabt, who reportedly 据报道 left the ground after being taken off 被罚下场 at half-time.
"That's not my problem at the moment," he said. "I have no idea [whether he left]. You get days when Adel comes off. You're going to get days when he throws his toys out the pram, but that isn't a worry for me."
To throw one's toys out of the pram means to behave in an angry and unreasonable way, like a child.