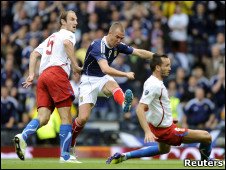 The mood outside Hampden Park was a confident one before the crucial Euro 2012 qualifier between Scotland and the Czech Republic last Friday.
The home supporters descended on the national stadium hoping, and expecting, to see their heroes put the Czechs to the sword(比喻)将捷克队置于死地。
The Scotland management team had been reluctant to label this match "win or bust" in the build-up, but the Tartan Army 苏格兰队支持者 were in no doubt that nothing less than three points would do to keep Scotland's qualification hopes 入围资格赛的希望 alive.
Scottish fans always embrace their duty to create an intimidating atmosphere 一种咄咄逼人的气氛 for travelling teams to handle, and the supporters were pumped up 情绪高昂 before kick-off.
The last five minutes of the game, the ref has two big decisions to make and he's got them both wrong.
Scotland forward Steven Naismith
As a result of a nervy 令人精神紧张的 first-half, in which the Czechs had several good chances to score, the Tartan Army's rousing vocal support faded.
It took an unexpected slice of fortune 一丝运气, when the Czech goalkeeper gifted Miller the opening goal right on half-time with a botched 失败的,砸锅了 attempted save.
The ground came to life again, but nobody was fooled that the lead Scotland took into the half-time break was merited 靠实力得分的。
And they could have no complaints when, 12 minutes from time, Bordeaux's Jaroslav Plasil pounced to prod home 轻松地把球挑进了球门 the equaliser.
The Tartan Army was stunned, and it appeared that qualification for another major tournament was slipping away.
Darren Fletcher appeared to have saved the day, with the captain finishing off some fine work from Miller.
But Scotland have a monopoly on the sting in the tail 事与愿违的厄运总在他们身上上演, having suffered from cruel twists of fate 受到命运的残酷捉弄 more times than any supporter cares to remember.
The sucker punch 突然袭来的致命一拳 came just minutes from time when substitute Danny Wilson was penalised for a foul on Jan Rezek, although contact was difficult to detect even with the aid of replays.
The penalty was ruthlessly dispatched 毫不留情的作出决定 by Michal Kadlec and once again Scottish hearts were broken.
A late penalty claim 要求罚球 when Christophe Berra tumbled 翻滚 in the area was dismissed by the referee.
Scotland forward Steven Naismith had no doubt where the blame for this damaging result should be apportioned.
"The last five minutes of the game, the ref has two big decisions to make and he's got them both wrong," Naismith said.
"I wouldn't say it was our best performance, but we did what we needed to do.
"We got good goals at good times, we feel we had done enough to win the game but in the end it's bad decisions that have cost us."
The debate about the two penalty incidents will rage for a while yet, but for now, Scotland fans are left with that all too familiar feeling that qualification for a major championship is out of their hands.