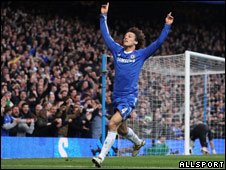 Chelsea boss Carlo Ancelotti said his footballers need to win their last nine matches to be in with a chance of defending their Premier League crown 卫冕他们的联赛冠军。
Late goals by David Luiz and Ramires led to a 2-0 win over Manchester City and moved Chelsea into third place on the table.
City had started the day in third place, above Chelsea, and it looked likely that Roberto Mancini's team would cement their place 巩固他们的地位 behind United and second-placed Arsenal with a valuable point at Stamford Bridge.
However, Luiz's header from a Drogba free-kick after 78 minutes and Ramires goal in extra time secured Chelsea's victory. This moved them one step closer to the title.
"It was a very good result and performance," Ancelotti told BBC Sport. "We are showing good spirit and good football and all the players are fit."
"It was important to put pressure up front and not concede. We could have done better in the final third in the first half, but after the break we did better and we put the pressure on 给对手施加压力," he said.
We are showing good spirit and good football...
Carlo Ancelotti
"Luiz's goal was a surprise. Defensively, he worked with fantastic tempo 绝佳的速度节奏 for a long time and his performance was really good."
The Italian boss defended his £50m signing striker Fernando Torres, who looked short of confidence and spark 看上去缺乏自信和激情。
"He doesn't have to lose his confidence," commented Ancelotti. "We have to be patient and so does he. The goal will arrive."
However, in this match at least, the Spaniard continued his goal-scoring drought 进球纪录颗粒无收, before being substituted with 20 minutes to go.
After the break we did better and we put the pressure on.
Carlo Ancelotti
Before the game, Chelsea chief executive Ron Gourlay had told BBC Five live's Sportsweek programme that the club would "see where we are at the end of May, then we'll judge the coach and other people at the football club".
But Ancelotti, whose contract expires in 2012, shrugged off questions about his future, and commented: "I'm happy in this moment, so I think we will continue."