The 2010-11 Premier League season will start with new rules.
Top-flight一流的 clubs will be forced to comply with 强制遵守 the new rules over the size and make-up of their squads 球队。
The main change is that clubs must register 注册 a squad of up to 25 players before the end of each transfer window 转会窗口 and eight of the players must be 'home-grown' 本地长大的。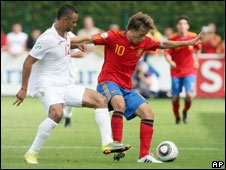 'Home-grown' players do not have to be English but must have played for at least three seasons with a club affiliated 附属 to either the English or Welsh FA, before the age of 21.
The new rules are designed 设计 to increase the number of young 'home-grown' players in the league, with the long-term aim 长期目标 of giving the England manager more choice when it comes to picking a team.
Chairman of Leeds United and former owner of Premier League club Chelsea, Ken Bates, says the new rules are vital 至关重要的 and will give young players "a better chance" to play in the league.
This is going to put a limit on the unlimited imports of foreign players.
Ken Bates, former owner of Chelsea
He also says that this rule will put a limit 限制 on the number of foreign 国外的 players being brought into 带入 the Premier League.
Bates also attacked his old club Chelsea saying "It is significant that since 2003 Chelsea have not brought one single English player into their first-team squad and similar situations apply to other clubs."
The number of foreign players in the Premier League has been criticised 批评 and many young players such as John Bostock claim it is blocking their chances 妨碍他们的机会 of playing.
That's all any of us have ever wanted to do since we were young. We just want that chance to show we can play and hopefully we will get it.
John Bostock, Tottenham player
The 18-year-old is still waiting to play in the first-team squad for Tottenham and says, "It's so frustrating. You want to prove yourself 证明自己 but it's hard when you don't get a chance."
Bostock says despite 尽管 the new rules he is worried that young players like himself may still be sitting on the bench 坐在候补席 at games.