Potential is one thing. Fulfilling it is another.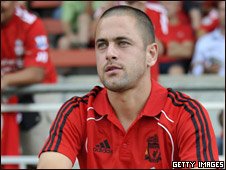 When Joe Cole was a teenager, he was regarded as 视为 the boy talent of English football and built up a career that many footballers can only dream of. However, it seems that his early promise has never been truly fulfilled 实现。
At the 2010 World Cup, 28-year-old Cole only made just two brief appearances as a substitute 替补。 In July 2010 Cole moved to Liverpool on a free transfer 自由转会 in an attempt to begin a new start in his career.
A player like Joe needs to feel his manager believes in him and that has perhaps not been the case at Chelsea and England.
Keith Blunt, Cole's former coach
Keith Blunt, who was Cole's former coach and saw first hand 第一手、直接地 how talented the young Cole was, believes this is an opportunity for Cole to revive 复活、重新崛起。
He believes Livepool has shown a clear signal that Cole is really wanted there. He is sure Roy Hodgson, the new Reds manager, will get the best out of Cole 让科尔人尽其才。
Cole's former team mate Steve Lomas, who played alongside Cole at West Ham from 1998 to 2003, also says Cole's move to Liverpool is the right thing for the midfielder. He believes this is Cole's big chance to prove 证实 himself and feels the player will finally fulfill his early ambition.
He thinks the reason for Cole not shining as brightly as he might have in the past, is that he wasn't given the right role at West Ham, Chelsea and England.
What held Joe back 阻碍 was that nobody really knew his best position.
Steve Lomas, Cole's former team mate
Keith Blunt still offers many anecdotes 轶事 to demonstrate why he holds Cole in such high regard 高度评价。His favourite is how Cole scored the most unbelievable winner over Norway in the final of the under-17 Nordic Tournament in Finland.
At that moment a bad clearance dropped on Joe, however, he controlled it with a calm touch. He then turned away from a defender 防守球员 before hitting the most incredible strike 射门 with his left foot into the top corner.
"I can remember asking Joe how he did it and he couldn't explain it. It was just pure class 绝对经典 and he still has it in him 有能力。"
Liverpool will surely be hoping Blunt is right.