The rumour mill 四处散播谣言 has started about the upcoming transfers 即将开始的转会 between the major football clubs.
First off, there has been a lot of speculation 猜测 linking Arsenal player, Cesc Fabregas with a move to his home club, Barcelona.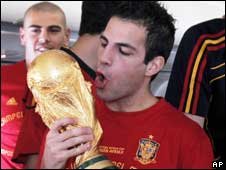 Arsenal manager Arsene Wenger has called for an end to the rumours saying, "It is very important we give the impression 印象 that just because somebody wants a player from us, we do not just give in 让步。"
Even Arsenal's former goal-scorer Thierry Henry has waded in 参与 on the debate 争论, voicing his opinion 发表他的观点 on Fabregas' possible move.
Cesc is our captain, he is so important to us. We want to keep him
Arsene Wenger, Arsenal manager
Henry who played for Arsenal for 8 years, also moved to Barcelona in 2007, but said he would love to see Fabregas ignore the Spanish club's advances 引进意向。
However, Henry did sympathise 同情 with the player by saying, "It is hard because the guy is from Barca but loves Arsenal. I wouldn't like to be in his shoes 处于他的境地."
Thierry Henry is currently preparing himself for a move across the pond 跨越大西洋(幽默说法)after he signed to the New York Red Bulls soccer club.
In other club transfer news, Chelsea manager Carlo Ancelotti is insisting 坚持 that defender Ashley Cole will be at the club next season, despite 尽管 the player being linked to a move to Real Madrid.
We have spoken about this but when the problem is over money, then it is not my problem
Carlo Ancelotti, Chelsea manager
Ancelotti has also spoken out about Joe Cole's rejection 拒绝 of a new deal at Chelsea. He claims cash was a big factor 因素 in the player's decision, saying the problem in the deal was "economic 和钱有关的".
Tottenham, Arsenal and West Ham were all said to be interested in Cole but today it was announced that he has opted 选择 to play for Liverpool on a four-year deal.
Before the player signed the dealwith the club, Liverpool manager Roy Hodgson wasn't giving anything away 守口如瓶 when asked about Joe Cole by saying, "I know we have been connected 将…联系起来 with him and it is good to know that we are connected with players of that quality but I don't have anything further to report on the subject."