Friday night proved to be a disappointing evening for the England squad and fans alike as the team drew 0-0 with Algeria in their second game of the World Cup.
Many people thought it would be an easy victory for England and give the team that morale boost 激励士气的强心剂 they need, after their previous 1-1 draw against the USA.
However England put in a lacklustre 毫无光彩的 performance which even led fans to boo their own team off the pitch, much to the disgruntlement 不满 of striker Wayne Rooney.
Nice to see your own fans booing you, that's what loyal support is.
Wayne Rooney
The player sarcastically 讽刺地 commented on television about the England fan's reaction 反应, a comment the player was later made to apologise for.
The second successive 连续的 draw for England means they are third in Group C, below Slovenia and the USA, which means they must win their match against Slovenia on Wednesday in order to qualify for the next round.
The England manager, Fabio Capello, pointed out the problems on Friday saying, "We weren't aggressive 进攻性 enough, we gave the ball away too cheaply and we didn't win it back quickly enough."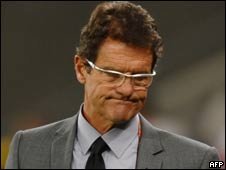 The England team has some of the best footballers in the world and was tipped 预测 to do well throughout this tournament, but their poor performance has led some to question whether the pressure of the World Cup is getting to the multi-million pound players.
Capello believes this could be a reason for their slow start to the competition and says the team lacked "spirit 精神" on the night.
England's star striker Wayne Rooney came under fire 遭到抨击 after not being on top form 最佳竞技状态 on Friday night. However the England manager still stands behind 力挺 his prize player.
"I know he gave the ball away a lot… and some of his passes were not good but he is still an important player."
I thought the first game would get the cobwebs out of the system and I am very surprised with this result.
Steven Gerrard, England captain
England captain Steven Gerrard admitted he was also taken aback 感到吃惊 at their performance and admitted that the team needs to start performing like they did in qualifying.
"We need to get back to the form we showed in qualifying. In qualifying, we had the majority of the team firing on all cylinders 使出浑身解数。"
When Gerrard says he thought the "first game would get the cobwebs out of the system 摆脱迷茫" he means that he thought after the first game all the problems would be out of the way and the team would be playing their best.
Now all eyes will be on the team on Wednesday to see if England can pull a victory out of the bag 探囊取胜 and regain 重新获得 their fans' confidence.
One person who still seems hopeful 有希望的 is former England captain David Beckham. He believes England can sort things out saying:
"It's easy to get back on track. If we win our last game everything looks good again."