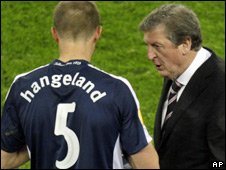 Manchester United's boss Sir Alex Ferguson is not known to dispense praise lightly 众所周知从不轻易给予他人赞扬, particularly to other managers in the Premiership. So when he described Fulham manager Roy Hodgson's achievements this year as "miraculous 奇迹般的" we should all take notice.
Ferguson isn't alone in his admiration of Hodgson, who has just been voted Manager of the Year by the League Managers Association.
What for, exactly? After all, Fulham haven't won any trophies this year.
Well Hodgson hasn't added to the team's silverware(体育比赛中的)银杯 collection, but he has certainly turned heads 引起关注 with his plucky 勇敢的 west London squad.
Based at the Cottage, just a short walk from Chelsea's ground Stamford Bridge, Fulham FC have long 很久以来 been overshadowed 使…失色 by their illustrious 著名的,出色的 neighbours. When Hodgson took over in 2007, they were on the brink of relegation 濒于降级边缘。But by the end of the 2008-9 season they were in seventh place in the Premiership – a record high for the club.
The right players have certainly been brought to the club. The players all buy into what the manager wants to achieve... This is a team built on organisation and resilience.
Brede Hangeland, Fulham FC defender
Much of the credit for the turnaround 好转 must go to Hodgson, who invested shrewdly 精明地 in little-known or ignored players, turning them into stars. Fluency in five languages meant that he could establish an excellent relationship with recruits from abroad.
One of those recruits is the Norwegian defender Brede Hangeland. When Hangeland says that the players "buy into" what the manager wants, he means that they believe wholeheartedly 全心全意地 in Hodgson's ideas and ambitions.
It was this remarkable team spirit 团队精神 that took the Cottagers 住别墅的人(英超球队富勒姆的绰号)to 18 matches in Europe this season as Hodgson steered them passed the group stages of the Europa Cup 欧洲冠军杯 (简称欧冠)。
Even Fulham's supporters weren't fully prepared for the 18,000 miles they would be asked to travel in support of their side. John Aitkin, from the Fulham Supporters' Club, told the BBC how he had failed to realise that there were two towns called Wolfsburg in Germany, leading him to drive 350km in the wrong direction.
Against all the odds 尽管面临极大的困难, Fulham overcame big clubs like Juventus, Shakhtar, Wolfsburg and Hamburg to reach the cup final last week. This was a high-quality encounter with Spanish big-hitters 成功的球队 Atlético Madrid that was finally resolved when Madrid's Diego Forlan scored a goal in extra time.
Despite exceeding everyone's expectations 超出了所有人的期望 with his European adventure, Hodgson described his feelings after the defeat as "bitter disappointment and great sadness". This is perhaps a sign of Hodgson's big ambitions for the 'little' club.
I've gone sideways, backwards and then upwards again. If you did a graph of my career it would look like a Kandinsky painting.
Roy Hodgson, Fulham FC manager
But how long will he stay? Although he has confirmed that he will remain at the Cottage for the time being, the 62-year-old has also hinted 暗示 that in the future he might be interested in managing a bigger club.
Hodgson admits he hasn't always made the best decisions about jobs, comparing his career path 职业生涯 to a work by the Russian painter Wassily Kandinsky 康丁斯基。
It is not normal for football managers to reference abstract expressionism 抽象表现主义 in their interviews. But then Roy Hodgson really isn't a normal football manager.