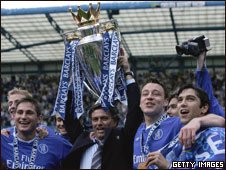 It was the win the Blues needed to realise 实现 their Premiership dream. An 8-0 thrashing 惨败 of Wigan was more than enough for Chelsea to prevent Manchester United from winning the league for a fourth year running 持续/连续。
John Terry was able to articulate 说出 the team's joy in overcoming their rivals in red. When he described a feeling "inside of him" Terry was talking about his envy of Manchester United and his desire to lift the trophy himself. As he said, Manchester United had lifted it "season 赛季 after season": several seasons running.
It's been inside of me for three years, seeing Man United lift it season after season and every single one of us has sat there and watched it.
John Terry, Chelsea captain
"We've done it and we deserved it" he added. "Now it's their turn to sit and watch us."
The win over Wigan actually represents a triple 三次 victory over United. Sunday's eight goals brought Chelsea's total tally 得分 to 103 for the season, which broke the previous record of 97 goals set by Manchester United in 1999-2000.
Moreover, three of those final goals were scored by Didier Drogba, which earned him the Premier League's Golden Boot, the award for the player who scores the most goals in the season. Drogba's total of 29 meant that United's Wayne Rooney was denied 被拒之门外 the honour.
But perhaps the biggest hero of the day wasn't playing on the pitch at all. In his first season at the club Carlo Ancelotti has taken his men to three seven-goal victories as well as this latest eight-goal pasting 轻取对手。
It is exactly the kind of scintillating 卓著的 football that Chelsea's owner, Roman Abramovich, was looking for.
So it was with heavy irony 强烈讽刺意味 that Chelsea fans sang "Boring, Boring Chelsea" as the final score was announced over the Stamford Bridge PA 球场广播。
We worked our socks off to get in that position and finished it off in style. We'll enjoy it.
Frank Lampard, Chelsea midfielder
It has been a challenging year for the club. There have been some ups and downs 跌宕起伏, both on and off the pitch. Chelsea midfielder Frank Lampard said that the team had "worked their socks off", meaning they had worked very hard.
But Lampard knows he can't relax just yet, with the FA Cup final against Portsmouth on Saturday offering the side a chance to clinch 紧紧抓住 the 'double' prize of winning both trophies.
He said, "We'll keep our heads all week and try to win this double, which has never been done at this club before." To keep one's head means to remain calm and in control.
As for the captain, John Terry described next week's clash 相遇/交锋 as a "massive" game, meaning a very important one. "We could go down in the club's history 载入俱乐部的史册", he said. "That's important to all of us, we all realise that and we're looking forward to it."
Judging by Sunday's performance, it's not a chance the Blues are likely to turn down.