At 35 Paul Scholes is one of the Premiership's veteran 经验丰富的老手 players. He signed his first Manchester United contract 19 years ago but on Saturday he showed that it's not yet time to write off 放弃 the man the fans call 'The Ginger 姜黄色头发的 Prince'.
The midfielder couldn't have timed 选时间 his intervention for greater dramatic impact.
With United four points behind leaders Chelsea with only four games remaining, they had to beat local rivals Manchester City to have any chance of winning the league.
With the match on a knife-edge 艰难得进行着, the score was still nil-all 零比零 after 92 minutes of play when Scholes headed in a cross 传中 from Patrice Evra. The goal came just 17 seconds before the end of injury time.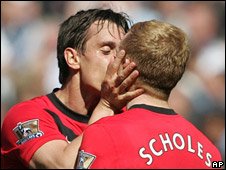 It was an exploit that earned Scholes the dubious pleasure 宁愿不得到的快乐 of a kiss from his team-mate Gary Neville.
Ever 一贯 modest, the locally-born star played down 轻描淡写 his contribution when interviewed after the match. But he recognised that United now had a chance to "stay in there". To "stay in there" means to continue fighting with a hope of winning.
We're just going to try and keep as much pressure as we can on Chelsea and hopefully we can just stay in there for now... The only thing we've done today is given ourselves a little glimmer of hope.
Paul Scholes, Manchester United midfielder
Scholes described the win as a "glimmer of hope 希望之光" but indicated that much depended on top-of-the-table Chelsea's match against Spurs later that day.
"We've managed to get our points and now it's over to Chelsea to see what they can do tonight."
That turned out to be not very much with Chelsea losing 2-0 to a re-energised 重新振奋起来的 Spurs. Put together, the two results represent a dramatic turnaround转机 in the Premiership with United now just one point behind Chelsea.
As Spurs manager Harry Redknapp put it 说的, "The championship is wide open again". Here, "wide open" means that the outcome has not yet been decided.
It's good news for the top clubs (except Chelsea) and even better news for the fans (except Chelsea fans). And in large part this exciting end to the season is thanks to one man: Paul Scholes.
That was the icing on the cake for us on the display that we put in today.... We set out to control the game... it was just a matter of getting the goal... but then, you know, the old maestro scores and he shows what quality he's got. And that was vintage Scholes.
Mike Phelan, Manchester United assistant manager
The midfielder has made more than 400 appearances for United, winning nine Premier League titles, three FA Cups and two League Cups.
The club's assistant manager Mike Phelan heaped praise on the star following Saturday's match, calling Scholes' stunning clincher 决胜之球 "the icing on the cake". By this he means the small act that makes something good perfect. He described the touch as "vintage Scholes", meaning that it was typical of the player's style at the top of his game.
Phelan also referred to Scholes as "maestro", a title of great respect given to a master musician. But Scholes isn't just a key player in a bigger team. As Phelan went on to say, "He was probably the conductor of the orchestra at times".