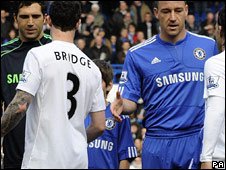 Chelsea captain John Terry suffered a public humiliation 当众受辱 on and off the pitch on Saturday as his team were beaten at home 4-2 by Manchester City.
Regular readers of Off the Pitch will remember that John Terry was recently exposed as a love rat 爱情骗子 after the press discovered he had been cheating on 对某人不忠 his wife with the former girlfriend of Wayne Bridge - an ex-Chelsea player now with Manchester City.
Saturday was the first time that Terry and Bridge had faced each other since the scandal broke 丑闻败露, and Terry received an ignominious snub 受到羞辱性的怠慢 from his former teammate.
In the UK opposing teams always line up to shake each other's hands as a sporting gesture 友好的姿态 before the game begins, however, Bridge ignored Terry's outstretched 伸出去的 hand before Saturday's game.
People in glass houses shouldn't throw stones.
John Terry, Chelsea
Chelsea fans were angered by Bridge's rejection 拒绝 of Terry and booed their former player whenever he got the ball.
The Chelsea fans' reaction puzzled 使困惑 some of the Manchester City players, including Gareth Barry who said that Bridge "kept his emotions to himself".
"Being the person Wayne is, he didn't want to rub anything in 使情况更糟," added Barry.
The phrase 'to rub something in' is an informal expression that means to make a bad situation worse.
Whether Bridge intended to create a difficult atmosphere or not, the match was an antagonistic affair 敌对的比赛 with two Chelsea player sent off and penalties at either end.
Manchester City were the stronger side with strikers Carlos Tevez and Craig Bellamy bagging a brace 进两球 each.
Bellamy was in typically aggressive form after the match too, saying that it came as no surprise to him that John Terry had cheated on his wife.
I opened the door to all players and now it is open in future for Wayne Bridge.
Fabio Capello, Engalnd manager
"I know what JT [John Terry] is like. Everybody in football knows what he is like," said Bellamy.
Terry himself responded to Bellamy's comments by suggesting that Bellamy was not so innocent himself.
"People in glass houses shouldn't throw stones," said Terry.
This phrase means that you shouldn't accuse 指责 other people of things that you are also guilty 有罪的 of.
The whole mess 乱摊子 has had repercussions 后果 for England's chances in the 2010 World Cup as Bridge has resigned from the England squad, saying that he refuses to play alongside John Terry.
However England manager Fabio Capello hopes that Bridge may still yet change his mind 改变主意.
"We have three months to change the decision," said Capello.
"I opened the door to all players and now it is open in future for Wayne Bridge," he added.