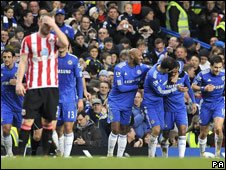 Until this weekend the African Cup of Nations 非洲杯(又称非洲国家杯) tournament had been seen as a possible lifeline 救命草 for the teams that are trailing Chelsea in the Premier League.
With a number of Chelsea's star players away on international duty 国际赛事职责, teams like Manchester United and Arsenal were hoping that Chelsea would slip up 输掉比赛.
But there was no such luck for Fergie and Wenger.
There's no getting away from it, we have had our backsides well and truly kicked.
Steve Bruce, Sunderland manager
Chelsea proved that they are still the team to beat by pummelling 连击 Sunderland 7-2 on Saturday.
Five Chelsea players scored goals, dispelling the myth 消除神话 that the team are dependent on their in-form striker Didier Drogba who is representing the Ivory Coast 象牙海岸 in the African competition.
Sunderland manager Steve Bruce was under no illusions 不抱任何幻想 about the game's result.
"There's no getting away from it, we have had our backsides 臀部 well and truly kicked," said Bruce.
This phrase means that his team were beaten badly.
But football is all about recovering from bad results and Bruce spoke of the necessity to get over 恢复,把…忘掉 the defeat.
Now we have a chance to fight for it [the Premier title] so let's have a go.
Arsene Wenger, Arsenal manager
"We can only hope that we pick ourselves up, dust ourselves down, and respond," said the Sunderland manager.
The phrase to pick yourself up and dust yourself down means to put bad news behind you and move forward in a positive manner.
The Chelsea manager Carlo Ancelotti, on the other hand, was delighted with the win and warned other managers to expect more of the same.
"This is how we should continue to play from now until the end of the campaign," said Ancelotti.
One manager who will not be fazed 使烦扰 by Chelsea's performance is the Arsenal manager Arsene Wenger, whose team beat Bolton 2-0 on Sunday.
Arsenal can go to the top of the league on Wednesday if they win their next game by two goals or more.
It is a remarkable comeback 东山再起 for a team whose league chances were written off 排除 by many commentators in November.
"We are in a quite interesting position where nobody expected us to be," said Wenger after Sunday's match.
"Now we have a chance to fight for it so let's have a go."